TRADIS, manufacturer of wooden furniture for professionals
Since 2011, Tradis counts on manufacturer know-how within a family business, to offer analternative to mass consumption in furniture fittings.
As a European pioneer in the manufacture of handmadefinished wooden furniture for shops, we provide design solutions to create a warm and rewarding ambiance in the sales outlets through well-adapted designs and natural materials with a quality finish.
Our expertise, recognized and praised by our customers, allows us to respond effectively to the problems of layout in trades including wine, delicatessen, flowers and ready-to-wear.
We want to offer furniture that is both qualitative and ethical, made responsibly with solvent-free products, and sustainably managed wood. Our furniture sublimates the wood without denaturing it, and is designed to last. It is a true philosophy that translates into a permanent search for products that are good for environment, sustainable and recyclable materials and a more ethical way of producing.
Tiffany and Yoann Sarrazin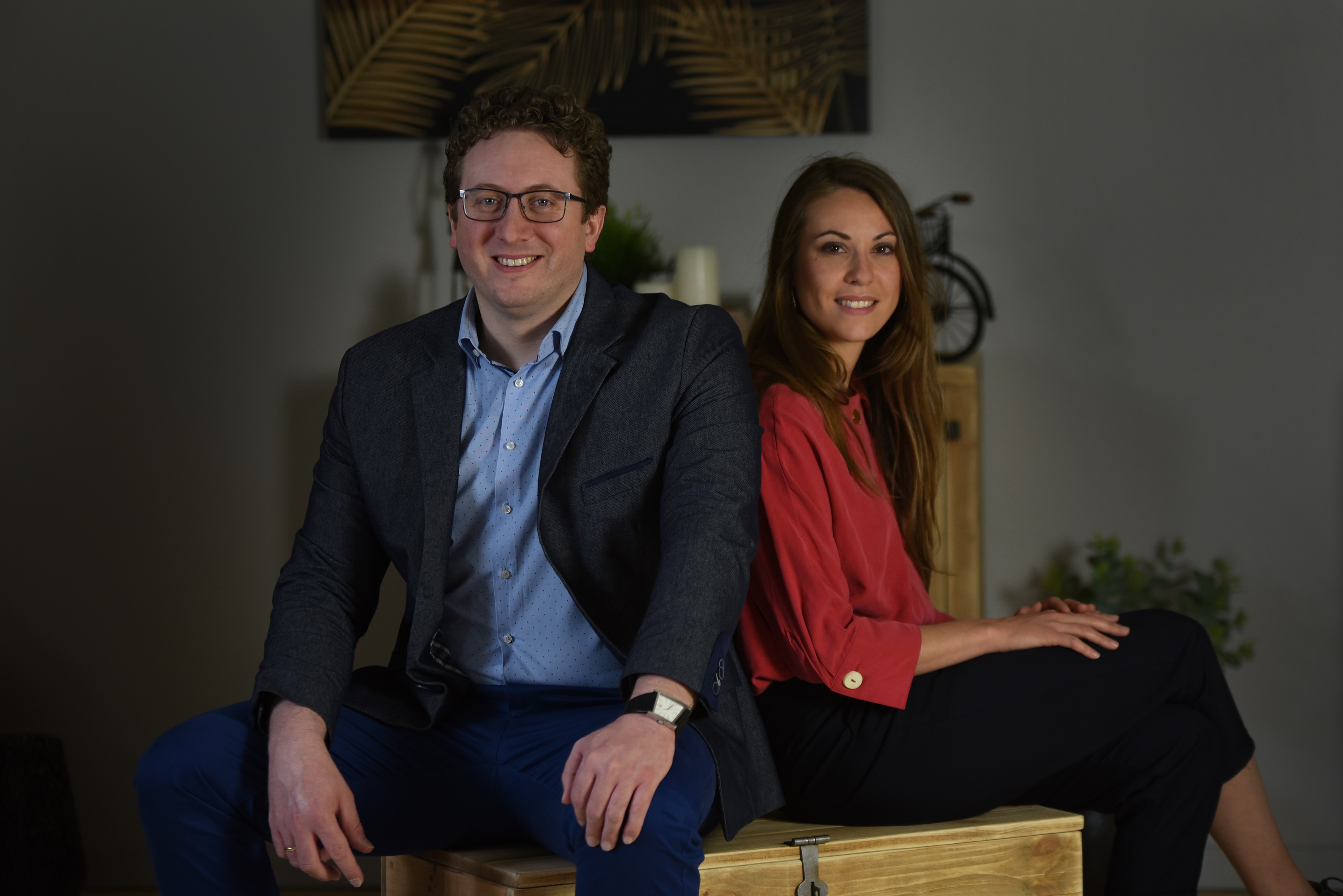 Handmade finishes for a unique style 
Each piece of our furniture has the distinction of being unique, thanks to a handmade finish by our team of craftsmen. This know-how, which requires technical expertise and precision, has been wholly developed by TRADIS.
The TRADIS style is recognizable thanks to its minimalist design as well as its associations of noble materials that enhance the furniture while keeping this sought-after natural spirit, the corner stone of our signature.
The hardware parts are of high quality, and our suppliers carefully selected to enhance the authentic appearance of our products.

A range of wooden furniture, scalable, adapted to each business constraints 
Because trends are changing over the seasons, TRADIS product lines have been designed to adapt to a multitude of layouts, allowing you to easily create and modulate ambiances and customer paths within your store.
Our philosophy is to offer you a totally scalable and modular range of products: adding or removing furniture according to the evolutions and specificities of the products sold in store. A unique layout that evolves to suit product trends and the store universe.
Our furniture is delivered assembled to facilitate the arrangement of shops and ensure optimum quality.




Authenticity and responsible approach in protecting our environment
Our entire manufacturing model is designed for an environmental approach with responsibility and transparency. For this, we are committed to using natural products without solvant throughout our manufacturing process (painting and assembly).
Our objective is to enhance wood, not to spoil it.
One of our founding values of our manufacturing is to promote good environmental practices through the materials we select and practices used. As for our raw material, the pine comes from sustainably managed forests certified FSC and PEFC.




European manufacturing for continuous quality and accessible prices
TRADIS has chosen to control its entire production process, from design to the exit of the workshop in order to guarantee product quality and innovation: In-house design office, manufacturing workshop in Poland, Europe-wide logistics.
The different stages of our manufacturing have been organized to ensure the durability, the meeting of production deadlines demanded by our customers, and the consistent finish of our products.
Our workshop is located in Poland, close to raw materials and craftsmanship, to reduce transport distances, reduce the carbon footprint and be more responsive to customer requests.