Categories : Tips
Published : 2020-06-17
Cavists: How to optimize your merchandising?
As we know, the customer experience begins when he pushes the doors of your shop, and for this reason the atmosphere and the way your products are promoted is very important. So how can you optimize your space and make this visit a success? How do you make people want to come back and create a link?
Solid wood, the showpiece of your products
The choice of furniture is important in the ambiance and atmosphere it will give to your space. Solid wood is often used in the world of wine, for its authenticity and natural charm. It is a timeless and sturdy material, which blends beautifully with both contemporary and more traditional decor.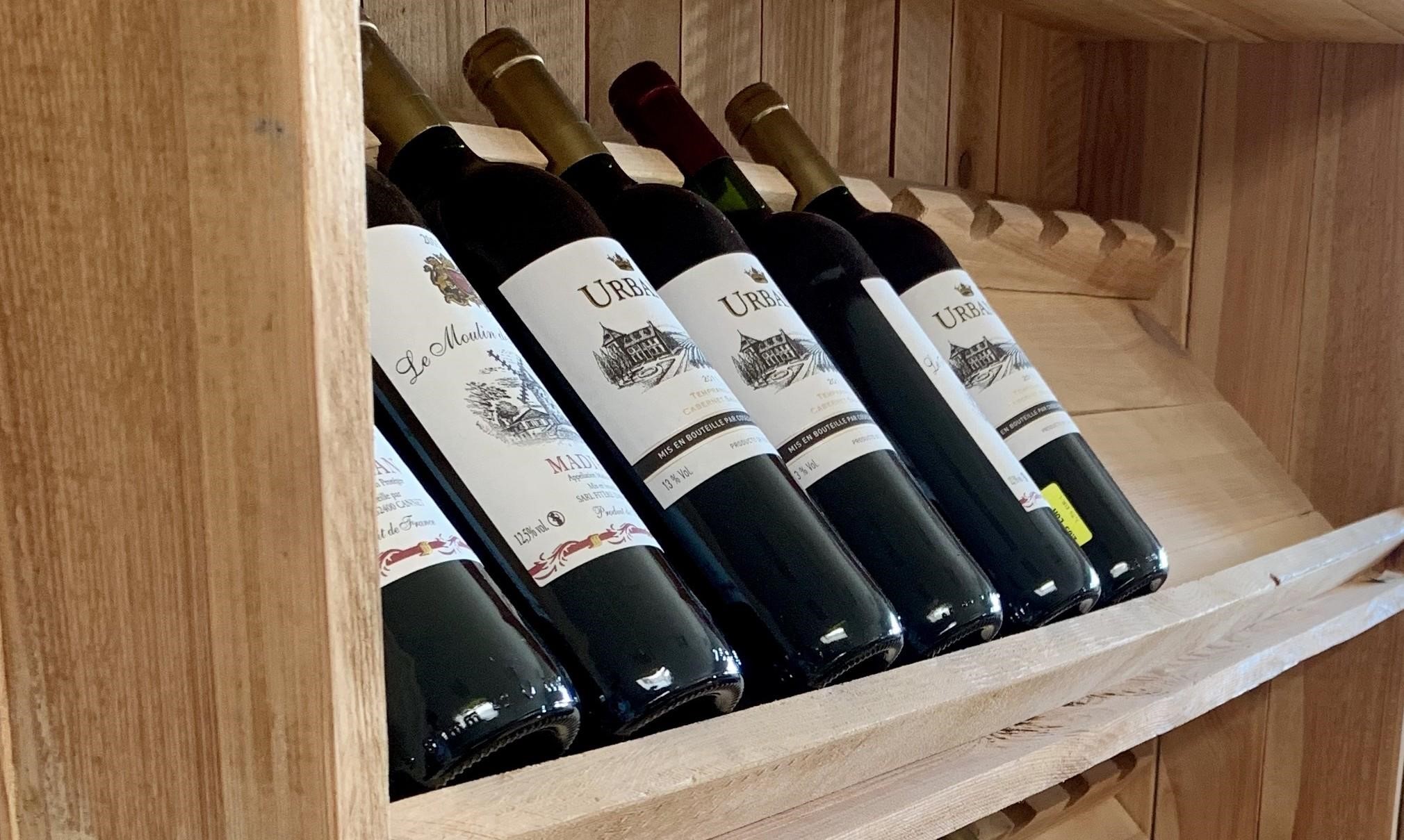 Attract your customers and make them want to come back ! 
From the reception desk, your customer must be under the spell! Give them confidence and invite them to continue their visit and above all their experience, whether it is gustatory, sensory or visual.
Your entrance to the reception area, also known as the transition zone, is crucial. This is where the customer will decide whether to enter or turn around and leave... So make this space an invitation to visit or taste and a summary of the offer that awaits your customer with furniture that does not hide the rest of the shop.
Compose, assemble, customize to make your shop a space apart! Mix accessories, furniture and small displays to diversify your offer and meet all your customers' desires.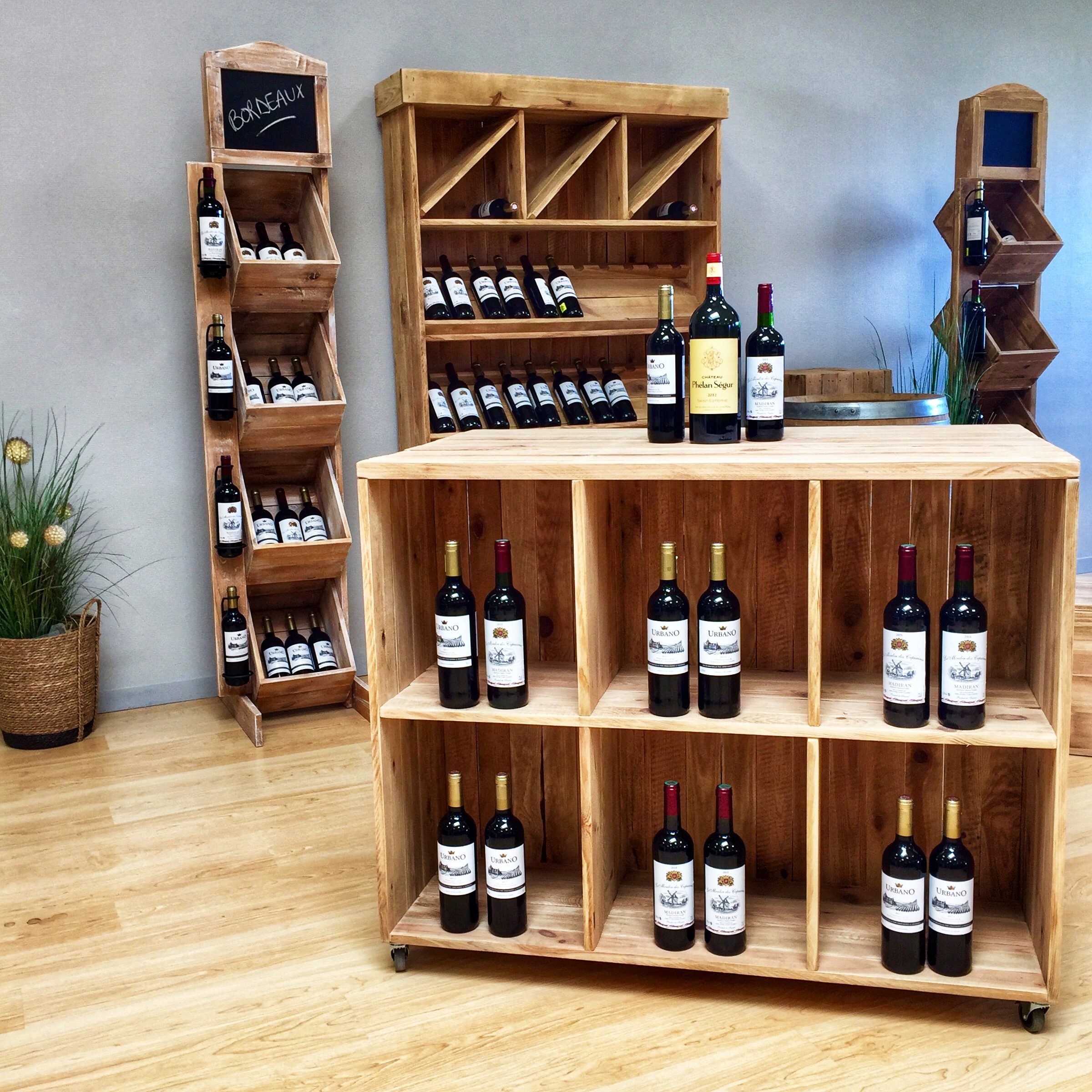 Guide your customers through your shop
Your furniture, placed in specific and strategic locations will naturally guide your customers to the products you wish to highlight. Feel free to test and adapt this route according to your observations, seasonality, ...
The shelves will generally allow you to place a large number of products, but don't forget to give importance to their location. Products placed at eye level will create more interest for customers and thus be better noticed.
For example, by using a shelf unit with sloping shelves at eye level, customers will immediately be able to distinguish your bottles better and will be more interested in tasting and perhaps buying them. As for the racks, you will be able to put your stock in them. 
A tasting area to seduce and convince your customers
After seeing, there's nothing like tasting! Switching from visual to taste stimulation increases impulse buying and above all allows you to distil a few tips to create a bond and make your customer want to come back. So think about creating a space for relaxation and tasting!
A few high tables, bar stools and a wine bar will immediately bring warmth and conviviality. In addition to creating a friendly space, you will be able to store your accessories and glasses in dedicated areas.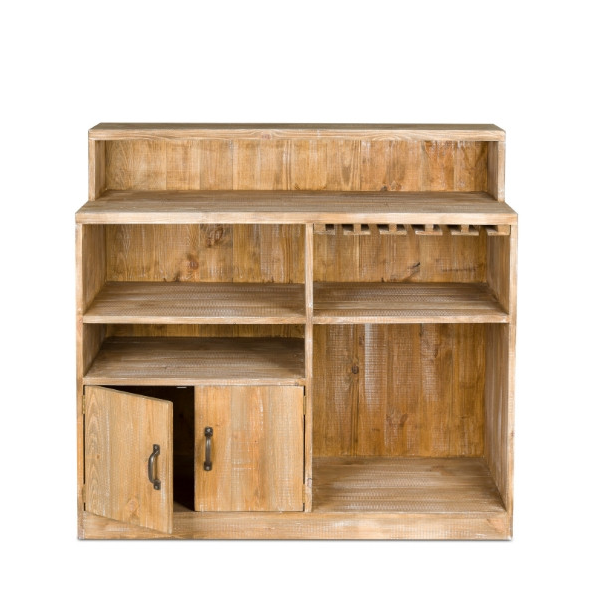 Discover all our range of solid wood furniture for wine merchants HERE !