Categories : Inspirations
Published : 2020-12-18
Interview with La Petite Epicerie de Tour in Paris
La Petite Epicerie de la Tour opened its doors on 19 November at number 13 on the Quai de la Tournelle in Paris. A new place designed by its famous neighbour, the restaurant La Tour d'Argent, which continue to offer its customers quality and exceptional products. A meeting with André Terrail, the third generation of this family, who has been committed to developing the House while respecting its heritage since 1911.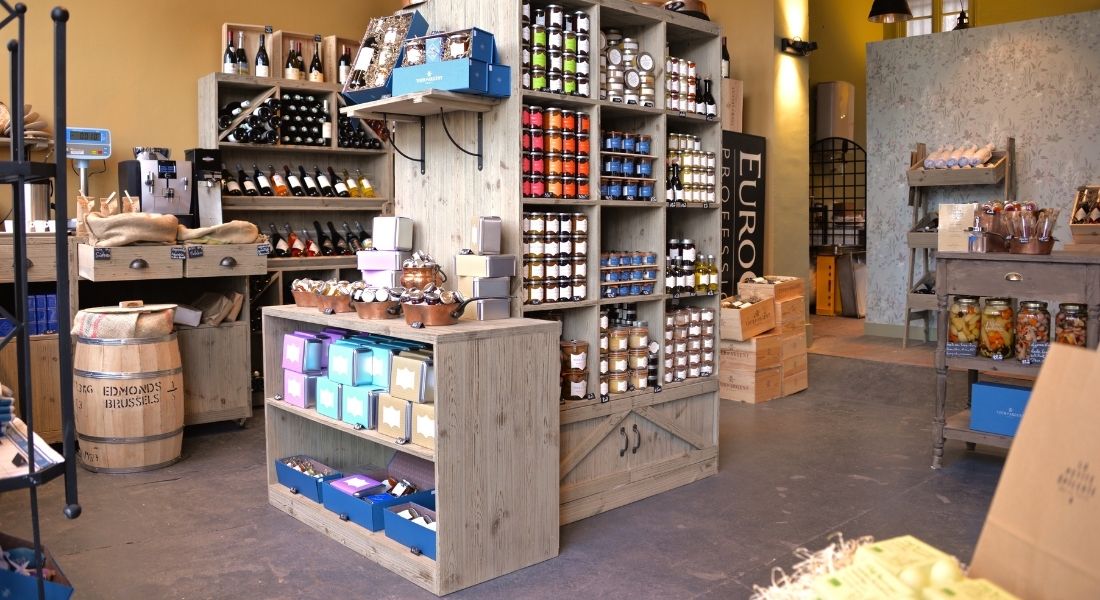 The Gris de Payne was the most coherent choice for us! It perfectly enhances our products, for a natural and authentic finish. 
What is the history of the Tour d'Argent?
The Tour d'Argent restaurant is one of the oldest establishments in Paris. In 1582 a certain Rourteau is said to have opened an elegant inn under Henri III. We have a very solid trace of this from 1592 with the existence of a wine merchant and a hostelry which took the name of Hostellerie de la Tour d'Argent because of the adjacent Château de la Tournelle which is built of a Champagne stone with silvery reflections.
How did you come up with the idea for your grocery shop?
We actually had an art gallery that was unused, at 13 quai de la Tournelle, and a grocery project in the boxes that we decided to activate as soon as the autumn came around, thinking that the situation was still unstable and that we had to find other opportunities. In spite of the difficulties encountered by the entire profession, this is a time when we have to imagine other concepts and above all be present for our clients. We are fortunate to have local customers who trust us with our bakery, which opened in 2016 just opposite the Tour d'Argent, and we can now offer them very nice delicatessen products that complement bread, pastries and tarts.
We have therefore reacted to meet the expectations of our customers and offer exceptional products by building up a panel of craftsmen and small producers from Ile de France. 
What is the concept of the Petite Epicerie de la Tour?
So the grocery shop is structured around different areas with :
The dairy! We are going to meet Ile de France farmers and it's magical, we go there about one day a week. The Domaine de la Chalotterie, de Grignon or the Ferme Sainte Colombe allow us to offer exceptional products such as organic butter or milk.
Then there is the catering part with all our ducks and those of the Maison Burgaud of course, the foie gras of the Three Emperors of course, which is the great recipe of the house, a 5% truffled foie gras and then a whole series of foies gras and terrines which are made in the kitchens of the Tour d'Argent.
The range of groceries with, for the very first time, home-made sauces and then bulk with sweets and salted butter caramels, marshmallows, sweets, spices, ...
A wine shop corner where you can obviously make your own suggestions. As the restaurant is closed, we are happy to offer for sale our range of wines, so as to keep our cellar alive with a very nice collection of about 250 references. 
And then I would like to finish with our selection of coffees from the Brûlerie des Gobelins and organic infusions from Emmanuel Burlot, as well as gift boxes and assortments!


Instagram @andreterrail
Did you already have the layout you wanted in mind?
Together with our architect Manuel Mercier, we sought to create a warm environment that was very cosy, not pretentious, in a revisited classic style. We didn't want something intimidating! Moreover we called it the little Grocery Store of the Tower even though everyone knows, because it is really a neighbourhood grocery shop, that it is the Tour d'Argent that takes care of it.
Why did you choose solid wood furniture?
It was an obvious choice for us compared to the project we had for a classic grocery shop revisited. Wood brings the authentic atmosphere we were looking for. Afterwards, what was interesting for us was to complete it with antique furniture, such as a table in Lyon marble, or an ironwork shelf that we found in Saint Ouen. 
Tradis was the base and then we completed by being able to put a little more budget on craft furniture that brings personality and a coherent whole. 
How did you discover TRADIS?
I had seen and heard about Tradis furniture through the magazine of Le Monde de l'Epicerie Fine and I thought that it was also a quality label that Tradis was a partner in their annual Epicures event. 
Tradis was very responsive in sending us samples which allowed us, together with our architect, to choose the furniture, the locations, the deadlines and all that, and it must be said, with a very good value for money for solid wood furniture that is environmentally friendly.
Did you have a specific finish in mind from the outset (aged wood, white, black)? 
The "Gris de Payne" finish was the most consistent choice for us! It perfectly enhances our products, for a natural and authentic finish.

What are the main difficulties you have had to face?
Well, I can't talk about difficulties because I was able to benefit from the mobilisation of all our teams on a project that was carried out very efficiently! 
Our architect Manuel Mercier knows my tastes very well and knows how we work, Aaron Levin took care of all the artistic direction, the head of the Tour d'Argent, Yannick Franques, meilleur ouvrier de France, concentrated on the grocery shop and made his entire network available, Stéphane Trapier, our room manager, took care of all the teas, infusions, coffees and creamery. We were also able to count on Virginie Guyonnet, our communication director and Melchior agency, our CFO Franck Le Béguet for the IT part and finally our general manager Yannick Branchereau, who has a great deal of retail experience for the coordination, the setting up of the sales team and the management solutions. 
In short, real teamwork and success with French companies who played the game and followed us in this project!
What do you like most about TRADIS furniture?
We were almost made-to-measure and really the Tradis furniture collection is well thought out and was able to meet what we were looking for and to make this place a warm place.
Are you satisfied with your collaboration with TRADIS?
Yes absolutely! The furniture is functional and you can see that it has been designed to meet the needs of the trade. The Tradis teams are available to advise and very reactive.




13 quai de la Tournelle 75005 Paris
www.boutique.tourdargent.com
Instagram