Categories : Inspirations , Layout
Published : 2020-11-18
Interview with the Cabas Solidaire, a grocery shop unlike any other
It is in Niort that Le Cabas Solidaire opened its doors last September. Back to this unique and convivial place with Stéphanie Auger.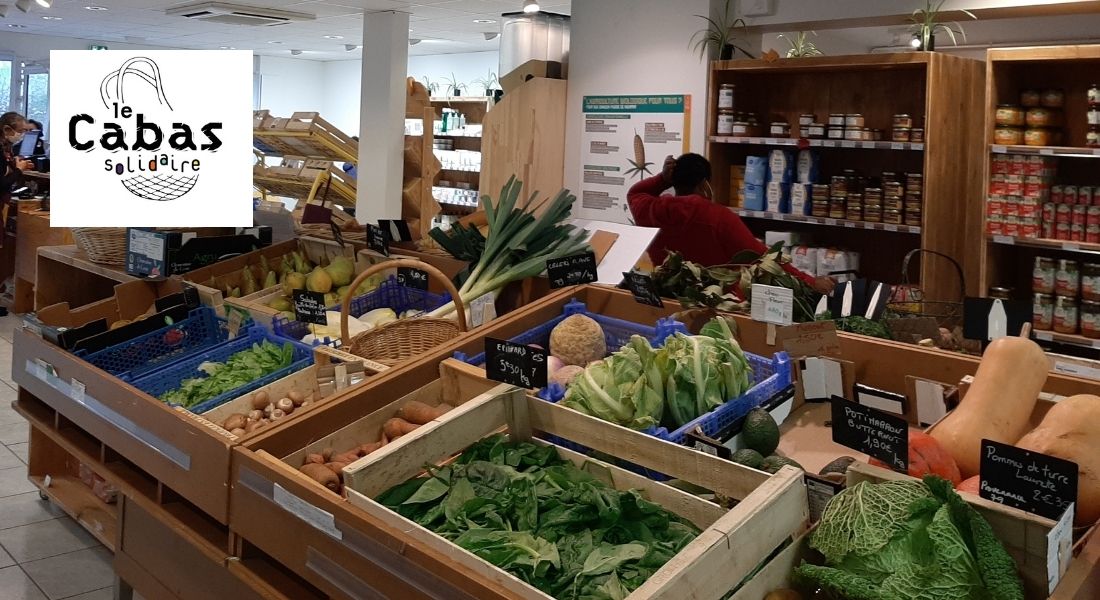 The main idea was to have something aesthetic and warm and wood was part of our basic requirements. 
How was the Cabas Solidaire born?
The Cabas Solidaire is first and foremost an association, the Soli'Niort association, which was created in February 2018 and was born from the initiative of several partners: Secours Catholique, the association L'Escale and the CCAS de Niort. 
From there was born the project to create a solidarity grocery shop based on 4 strong pillars : 
Solidarity pricing which allows us, thanks to solidarity customers who pay the posted price and which is no more expensive than elsewhere, to offer discounts ranging from 30 to 70% to beneficiary groups. We are really betting on an act of solidarity purchasing.
Short circuits are favoured by working with local producers for a majority of products which are put forward in the shop. It's really the idea of saying to ourselves that whatever our means, we can eat well thanks to solidarity pricing while helping our farmers and our local producers.
A shop but also a place to live with an educational kitchen that will allow us to organise cooking workshops, events, screenings, everything that people want to do. It's a space which, given the context, is not yet open but we hope to be able to launch our first workshops and activities next January!
Participatory Governance because beyond the very present Board of Directors we have 5 working groups and quarterly public meetings to allow us to have people's opinions.

Did you already have the layout you wanted in mind?
The room has already given us some ideas, but it's above all once we've got the keys that we can really start thinking about it!
We actually started from what we wanted to offer in the shop, which was important to us, and then we arranged according to that. For example, it was essential for us that fresh produce, fruit and vegetables be at the centre of the grocery shop, which is 110 m² and we then arranged around it.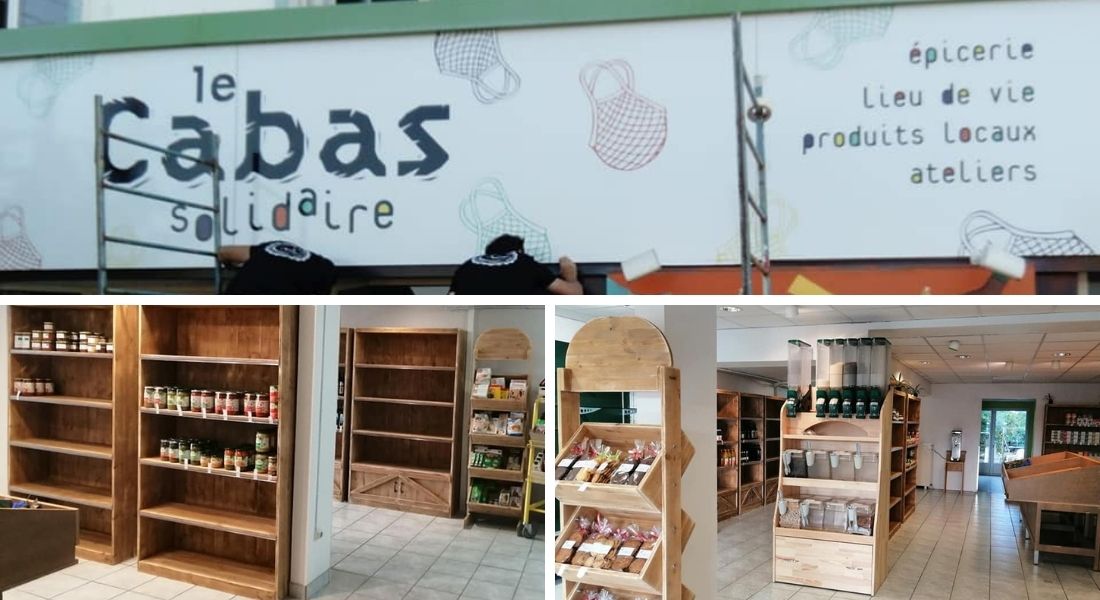 What are the main difficulties when you're an agency or even a shop?
At the outset we were supposed to benefit from sponsorship and therefore from different services and expertise but the first confinement decided otherwise and in order to move forward we decided to continue on our own and therefore to arrange the grocery shop ourselves. The layout would probably not have been done like that by a professional but it is our associative project and we do it with our skills and the desires of each one. The main thing is to have a beautiful place with the means we have!
Why did you choose solid wood furniture?
The main idea was to have something aesthetic and warm and wood was part of our basic requirements. 
Did you have a specific finish in mind from the outset (aged wood, white, black)? 
Not really! We waited to see what we were going to find without having preconceived ideas afterwards it is true that we had in mind a rough wood, something natural.
How did you discover TRADIS?
On the internet. When we started our research, we immediately fell in love with the aesthetics of the furniture, the fact that it is local with European manufacture and that it fits our budget. 
What do you like most about TRADIS furniture? 
In the end I would say that it is the right compromise on all our criteria, be it aesthetics, the origin of the products and the reasonable prices, especially when we are talking about solid wood, and finally the quality. The collections are followed from one year to the next, which means that if in a year we need a new piece of furniture, we can complete our layout while keeping the overall cohesion. And the products are designed for professionals and shops, which also reassures in terms of solidity, durability and quality of service and delivery.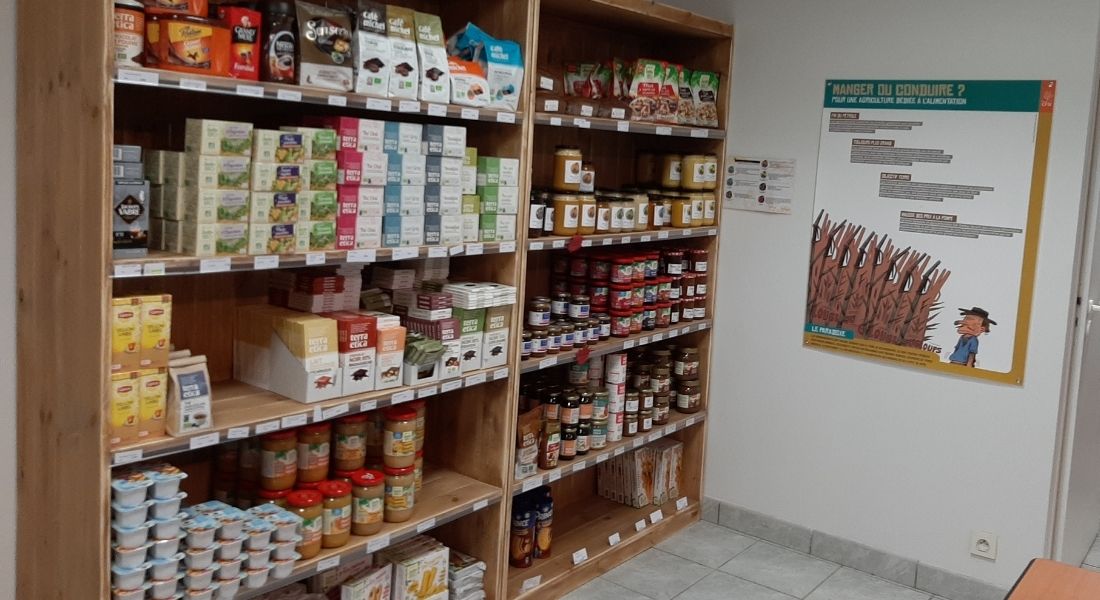 Are you satisfied with TRADIS for the purchase of your furniture?
Completely! I don't regret it and we have had only very good feedback on the aesthetics of the furniture, which has been unanimous!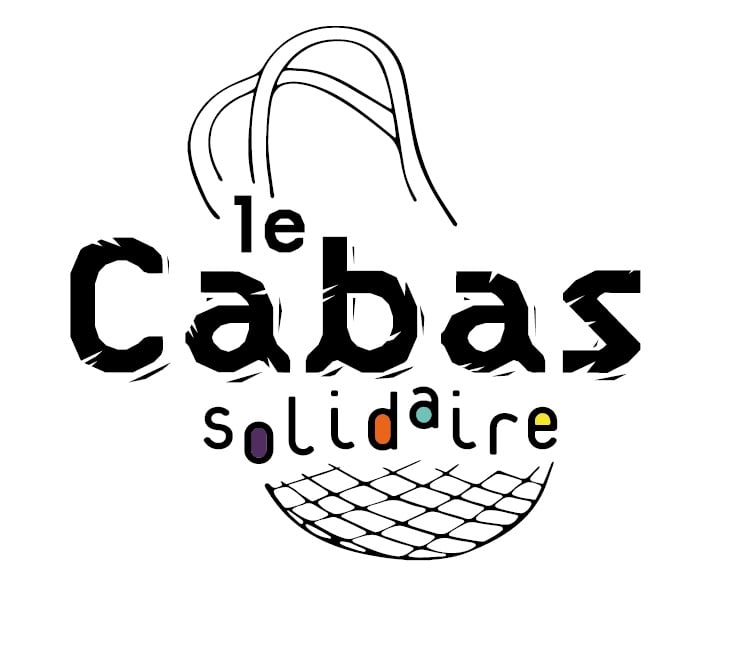 Le Cabas Solidaire
52 rue Sainte Catherine, 79000 Niort